Post-event report - THE WORLD 2018 STAGE 1 -
To win more than half of THE WORLD STAGEs this year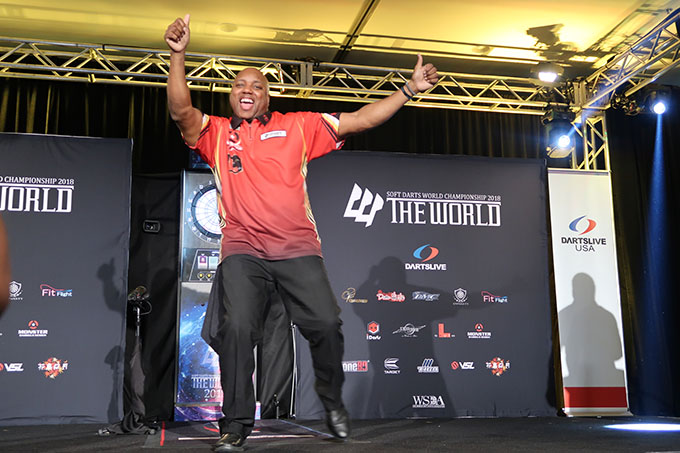 Leonard Gates is one of the strongest and cheerful players in the soft darts world. He has shown his rhythmic throwing style and the audiences are excited to see his outstanding performance.
"Did I do the dance for the audiences? I won't say no. But I guess my body just reacts naturally to the crowd. I feel relax when playing darts. I truly think that darts have a good influence on me."
THE WORLD 2018 STAGE 1 was held in Las Vegas, USA on Sunday May 13. Gates has successfully taken the first CHAMPION of this year!
"I very much want to participate in THE GRAND FINAL this year. My target for this year is to win more than half of THE WORLD STAGEs. This is my motivation for sure."
The Homie Americans Took Full Advantage of the Home Ground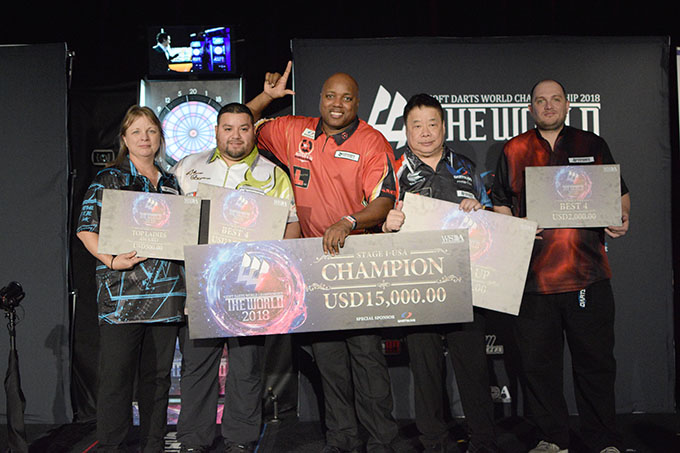 Players from USA definitely have well performances in this STAGE, especially Gates who is our first CHAMPION. In total, 3 of the TOP 4 players are Americans!

CHAMPION: Leonard Gates (USA)
RUNNER UP: Paul Lim (Singapore)
BEST 4: Kevin Luke (USA)
BEST 4: Alex Reyes (USA)

Alex Reyes was defeated by Paul Lim in the Quarter Final. However, he has recorded a highest Rating in STAGE 1 according to the detailed play data (data after Quarter Final), which was 18.26.
In THE WORLD, he is one of the TOP players with high stability and strength. We are looking forward to his great performance this season as well.

For Kevin Luke, although he is not one of the active players in THE WORLD, he is an experienced player known in his home country USA.

And our RUNNER-UP player, Paul Lim, has continued to give good result this year. We have once again witnessed the talent of our Legend.
Paul Lim has joined THE WORLD for years. His experiences have given him strong skills and stability in return.
THE WORLD – A High-Level Darts Tournament

Many world famous TOP players participated in STAGE 1, such as the CHAMPION of SUPER DARTS 2018 Haruki Muramatsu (Japan) and the popular PDC player Justin Pipe (United Kingdom).
Haruki Muramatsu ranked in BEST 8 and Justin Pipe ranked in BEST 32. There is no doubt that STAGE 1 was a high-level tournament.
"Not only do the world's strongest players participate but also they are getting stronger every year." Just as Paul Lim stated, it is surely becoming harder and harder to get the victory in THE WORLD tournament.

TOP 8 Players' Detailed Play Data Published
Starting from 2018 STAGE 1, we have published the TOP 8 players' detailed Play Data in ranking format which includes player's Rating, 01 GAMES STATS and CRICKET STATS. The data proves the top players' talent and we are pleased to share the details with the fans around the world.

Check the Play Data on the Official Website

STAGE 2 will be held in La Rochelle, France on Sunday June 17. LIVE webcasting will be available on our official website. Be ready for the next battle, stay tuned!